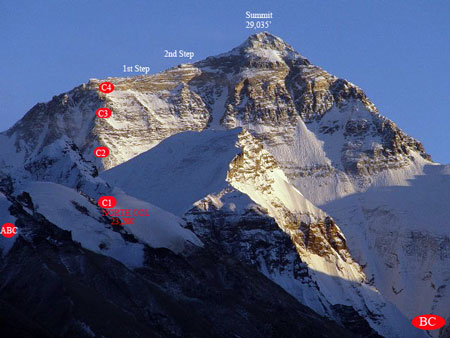 Height: 8848m above sea level. 
Located in the Mahalangur section of the Himalayas on the Nepal side of the Nepal-China (Tibet) border.  
This year the Nepalese Government permitted a total of 92 expeditions to climb Mt Everest, which is less last year where 100 permits were issued.
This spring season witnessed 375 ascents to the summit from Nepalese side while 131 summits were made from the Tibetan side of Everest.
On May 29th, 1953, Sir Edmund Hillary of New Zealand and Tenzing Norgey Sherpa, originally from Nepal (and later took Indian citizenship) became the first to climb Mt Everest.
Since 1953, 3448 climbers have sumitted Mt Everest with the number of ascents totalling 5545.
Nepal's Apa Sherpa set a new world record by climbing Everest for the 21st time this season.
The Nepalese government received USD $2,381,000 as a royalty from mountaineering this spring season and the total economic benefit to the country from the mountaineering is estimated to be USD $9 million.